I guess every country is proud of its own traditions and culture, that's what annual festivals and cultural heritage preservation endeavors are for. Similarly, expats tend to create small communities in their new countries that try to resemble the original as much as possible, in order to feel more at home. But what happens when people love every country under the sun, but just can't bother to get there? Well, they use their imagination and create their own little copies at home.

Despite Japan's close proximity to continental land, it has notoriously remained closed to foreigners for many centuries. That doesn't mean that information could not flow inward, though. Tales from foreign lands arrived, bringing with them also religions (Buddhism), customs (Autumn Festival) and systems of writing (Chinese characters) among others. The Japanese people knew of all magnificent creatures that walked on fairy lands with lush jungles and magnificent mountains, they just hadn't seen their form. That didn't stop them from trying to describe all that information as accurately as possible. An example of the will to produce art of things never seen before by eyes of a Japanese is the dozens of paintings of tigers, despite tigers never inhabiting Japan in the past, like the following hanging scroll from the early 19th century.
What happened with paintings and silk prints two centuries ago, happened in an extreme degree some decades later. The craze for seeing the unseen, feeling the unfelt, was substituted by full-size recreations of lands far away. The most prominent example is Huis Ten Bosch or haus ten bosu in Japenglish pronunciation. Built in 1992 in Sasebo, Huis Ten Bosch is a mini dutch village, a theme park complete with buildings in true dutch style, reminiscent of the original dutch settlements in Dejima and Hirado located nearby in Nagasaki. A small island in Seto sea, Shodo island, is a complete copy of Greece, including ancient (-looking but not in ruins) temples and olive groves. In order to satisfy the need for preservative olive oil for the booming sardine industry in Hokkaido, this island in the south with Mediterranean-like climate assumed the role of the olive oil producer of the country.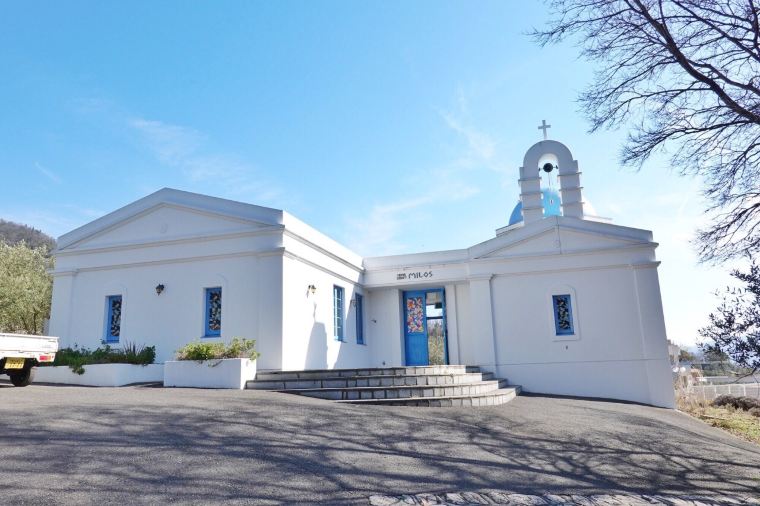 Another old school southern specialty is Parque Espana in Mie prefecture, a theme park with a spanish theater, flamenco dances and a castle. Are you more interested in Britain? Well, in the middle of the main island of Honshu, in Fukushima, the British Hills are waiting for you, satisfying the necessary requirements of an afternoon tea room and a pub. More into beers and winter time sparkling illuminations? There is a German village in Chiba, just an hour from Tokyo.
Since such attractions cater to a Japanese audience, understandably they don't stay true so much to the original material, apart from design and dish names here and there. But the attempt to re-create a location is remarkable at least. A lot of the theme parks are successful and operate until now. However, more often than not, large scale projects like that are easy to be out of trend after a couple of years. This is evident with the Russian village close to Niigata, that despite its golden domes of an orthodox church and cute Babushkas, is now falling apart in solitude.
There are some locations that are integral to the management of foreign forces currently in Japan, namely the US. Although some are still functioning as usual, with a large number of American military men visiting regularly, like the American village in Okinawa, there is also Johnson town, an abandoned US base in the middle of Saitama.
There are other, not so fabulous locations around Tokyo that are called "little X" due to a high concentration of foreign goods shops and restaurants alone. The most prominent being the Chinatown in Motomachi, Yokohama, it is also interesting to visit the Korean town of Shin-Okubo and Little India in Nishi Nankai. A small-scale copy of Venetian architecture would be Venus fort mall in Odaiba in Tokyo, that tries to capture the feeling with a couple of fountains and Renaissance-style marble statues.
A second little Venice, together with pure french Marie Claire street, exists in the downtown shopping area of Jiyuu-ga-oka. Another street, Elm street in Okurayama in Kanagawa, features ionian-style pillars and classical greek architecture. And don't get me started on statues of liberty. There are so many, it seems that every pachinko gambling parlor that respects itself has one one its roof.
Some other locations are just resembling the feeling of a place abroad, like Japan's Hawaii Suo Oshima, Japan's Naples Kagoshima or Japan's France Kagurazaka. Just try googling 'little x of Japan', x being any place in the world and I am pretty sure something will come up. That's what I did to prepare this post at least.
Of course the king of replicas, is outside Japan. The tiny autonomous region of Macao next to Hong Kong, offers a grandiose representation of several European and other countries with its thematic casinos. I witnessed second hand the (electrical) gondolas of the Venetian and took a selfie under the Eiffel tower of the Parisian. (I am only now realizing that I haven't described my trips to Okinawa or Hong Kong/Macao in the blog and just experienced a panic attack, please ignore me.)
Ignoring location replicas for a minute, international festivals with food and music are held in Yoyogi park almost every week (in normal times). Japan is arguably trying to suck every foreign, exotic experience with pure enthusiasm. But is this common anywhere else? Apart from the little Eiffel Tower in Filiatra, Greece, it is my first time experiencing something as "big" as this in terms of inter-cultural interest. If you have any common example to share, please do so in the comments below!
Trivia: The author of Jurassic Park, Michael Crichton, had noticed the recent (at the time) in Japan for theme parks with re-created worlds. In the first edition of the book in the 90s, it is mentioned that the park in Costa Rica served as test for a future park in Japan, requested by the Japanese investors in the project. Indeed, Parque Espana opened its doors in 1992 and Huis Ten Bosch in 1993. Just another reason to see how well researched the Jurassic Park story was.
Read more about little X's and imported traditions
By now, I am convinced that for every single area in the world exists an equivalent mini version…
Keep reading
Two weeks ago, the day of Setsubun (Feb. 3rd) marked officially the start of spring. Since then, more…
Keep reading
Το φεστιβάλ της Ταναμπάτα (七夕= το έβδομο βράδυ) είναι η μεγαλύτερη γιορτή του καλοκαιριού μετά το Ομπόν. Είναι…
Keep reading